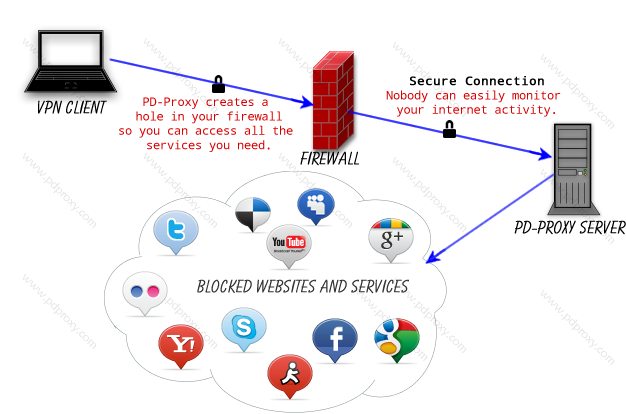 Did you feel uncomfortable when you wish to open certain sites but your ISP didnt allowed it. The site you wished to open were blocked and it is really frustrating.
Using PdPxoxy a Virtual Private Network as a proxy will give you access to  all blocked websites, and it is also able to make your connection anonymous because like everybody else, I believe you dont like to be spied and tracked. It also can secure and encrypt your connection especially if you use public access internet such as Wifi, Hotel or Cell Phone internet. Using PD-Proxy makes it impossible for others to spy on you, they can't even see what sites you are visiting when you are using PD-Proxy.
In the word PdProxy can be said as a tunneling software that can secure your internet connection by encrypting all your connections to the internet.
No body could be able to track your real IP (Internet Protocol) address or Identify your place. All the programs installed on your computer will be working automatically via VPN, which is the main difference between VPN and proxy server, requiring software support for proxy connection.
You can use PdProxy to access internet freely by using a certain Internet Provider.
How to use it:
1. Sign up for an account
2. Download and unzip PD-Proxy
3. Open PD-Proxy.exe When a prompt message asking you to install a driver press Yes.
4. Press connect and wait till it says that you are connected.
5. Enjoy browsing the internet safely and securely…
Notes:
1. Make sure that you have activated your registered account.
2. Make sure the program has administrative privileges when using Vista/7
3. Make sure you have an active internet connection.
You can Download PDproxy by Clicking the link below
Other softwares you might like to download: