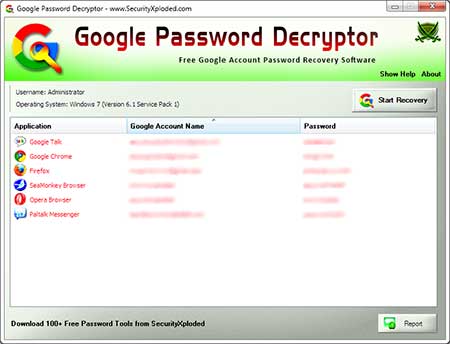 Google Password Decryptor is a freeware to recover your stored password in google application as well as popular web browsers and messengers.
Here are the supported applications that can be done by Google Password Decryptor:
Google Desktop Search
Internet Explorer
Google Chrome
Flock Browser
Gmail Notifier
Paltalk Messenger
Pidgin Messenger
Google Talk
Google Picassa
Chrome Canary/SXS
CoolNovo Browser
Opera Browser
Apple Safari
Firefox
SeaMonkey Browser
Comodo Dragon Browser
Miranda Messenger
Each one of the previously application employ their unique encrypted file format and also safe-keeping position in order to safely and securely keep the Yahoo and google bank account security password. Google Password Decryptor utilizes different ways to decrypt most of these security passwords and also current them within the distinct textual content.
These encryption platforms and also how you can retrieve security password for all most of these apps are generally definitely highlighted within the subsequent investigation post.
Rar password: a5f5de09578f238f4b226338e4fc08ba
Other softwares you might like to download: